The following appeared in Voices - https://www.primepublishers.com/voicesnews/
© Copyright Prime Publishers, Inc. - Voices
WMS Visit Confirms Congresswoman's Teacher Credentials
by Nancy Dzija Vaughan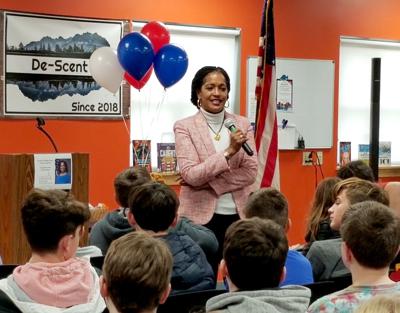 WOODBURY – A visit to eighth-grade students at Woodbury Middle School on Monday, November 18, proved Fifth District Congresswoman Jahana Hayes still has what it takes to be a National Teacher of the Year. The group of students, some of whom started out polite, but unimpressed with the visitor, all quickly snapped to attention and began to lean forward and listen as she described her path to Congress, her normal work week, what excites her about her job and how they each have the ability within themselves to make a difference.
By the end of her visit, Rep. Hayes was praising the students for their interest in current affairs. Told by WMS Principal William Nemec that the school's core values were "respect, responsibility and relationships," Rep. Hayes told the eighth-graders, "You already have everything you need" to succeed.
Rep. Hayes started her visit with a bit of her personal history, including how she became a National Teacher of the Year in 2016. As a social studies teacher at John F. Kennedy High School in Waterbury, Rep. Hayes realized her students longed for a connection to the community.
In response, she created the HOPE Club, a unique service organization whose sole purpose was providing students with opportunities to give back to the community. In putting forth her application for Connecticut Teacher of the Year, Rep. Hayes ignored common wisdom that suggested she should highlight her students' grades and her teaching strategy and instead focused on her investment in service to the community and her students' eagerness to become involved.
When she was asked to consider running for the open seat being vacated by former Congresswoman Elizabeth Esty, Mrs. Hayes said she was at first hesitant. She had never run for public office before, and she was not sure she was ready for such a big step.
On a trip to California with her HOPE Club students, helping rebuild homes destroyed by wildfires as part of a Habitat for Humanity project, she looked around at those same students who had fundraised to pay for their trip and realized, "Maybe I can do this. I truly believe in the Constitution."
When she opened the floor to student questions, the WMS eighth-graders began with a few easy questions, then quickly moved on to progressively harder ones.
What was her favorite part of the job? What was her day like? Did her family support her decision to run? What did she find most exhilarating about being a Congresswoman and what did she find most frustrating?
What part was she playing in the impeachment proceedings? Had she made a decision on how she would vote? If she had to choose between freedom and equality, which would she choose?
And one of the final questions was how did she go about representing everyone in her district, especially when her district was about split between those who would vote Republican and those who would vote Democratic?
"I'm glad you are sitting up and paying attention," she said, then quickly clarified she meant that they were paying attention to current events, as evident by their probing questions.
The House of Representatives, or Congress, is the People's House, she told the students. While there are occasions when someone might be appointed to finish someone else's term in the Senate or when someone could become president through succession, a person has to be elected to serve in the House. If someone is unable to finish a term, the state has to hold a special election to select a replacement.
Rep. Hayes told students that when she was elected, she immediately became the representative of all of her constituents, whether they voted for her or not. Her job is to listen and understand their needs, she said, whether it is learning more about the impeachment process or expressing their concern over the death of Beulah, the elephant at the Big E this September.
She was particularly impressed with the question about the demographics of her district. She said that although 50.1 percent of her district leaned Democratic, she has to "represent everyone."
She shared that her former students at Kennedy High School once told her they could never figure out whether she was Republican or Democrat and she explained that was part of her job as a teacher, to remain neutral in discussions of current affairs.
Rep. Hayes spent a few minutes explaining her feelings about freedom versus equality. "There can be no freedom without equality," she began, then continued on to describe the difference between equality and equity.
Once again, the teacher in her showed. "If you have a classroom of students and one student needs a hearing aid, equality would mean you had to give everyone a hearing aid," she said. Under equity, you would give each student what that student needs to succeed.
"You cannot have freedom without equality or equity," she explained.
When the one-hour visit ended, students were reluctant to leave, with many making a point to stop and say thank you or shake her hand on their way out the door.
A select group of Student Ambassadors remained behind to share their hopes and plans for the future with her. Once again, Rep. Hayes listened attentively and encouraged them to follow their dreams and know they had what it takes to succeed.